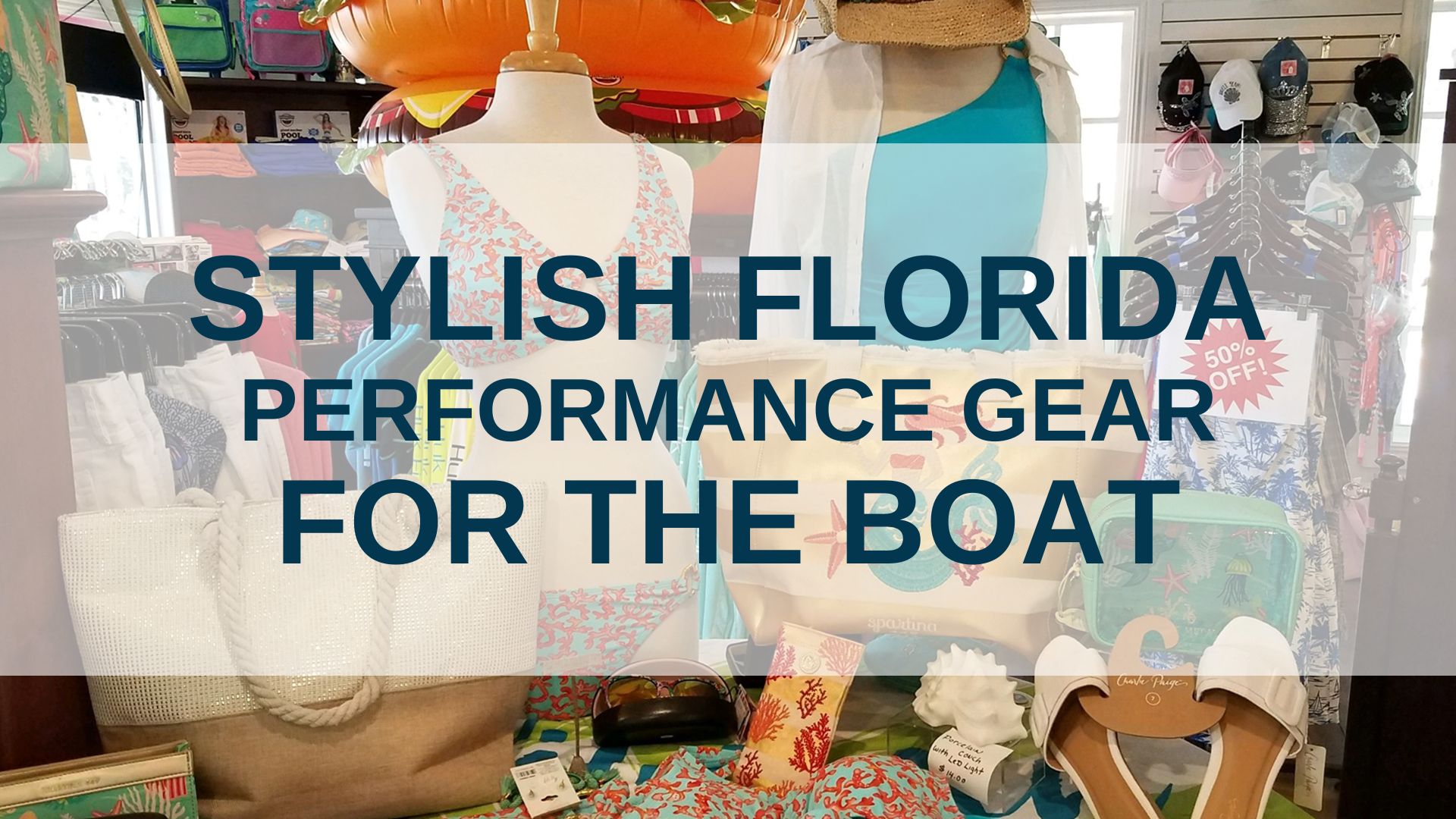 August 30, 2022
Having premium performance gear is essential for every boating excursion. Sailing, kayaking, partying on a pontoon, no matter the occasion, you want to dress your best before taking to the water. At Coastal Outfitters, we believe the best performance gear is more than just activewear; it's a statement of fashion. Before leaving our store, a few items from the shelves will ensure you're looking your best.
Part of our performance gear success comes from stocking top-notch, reputable brands. Spruce up your wardrobe with the best of Charlie Paige, or take a detour to the Hook & Tackle selection. Southern Tide offers a plethora of dresses, shirts and shorts, while our Costa sunglasses can go with nearly any attire. And don't forget about Huk, a brand synonymous with quality performance gear.  
Wear Southern Tide for Real Southern Vibe
Set sail with a brand built for the seaside. Southern Tide boasts performance gear for ladies, gents and youth alike. We've flooded our store with apparel fit for a Southwest Florida adventurer, keen on living out that seafaring lifestyle. After all, according to Southern Tide, "… the South is more than just a location; it is a state of mind."
Southern Tide will have you rethinking when, and where, you'll sport your favorite dresses. See, their stylists understand sometimes you want to look your best with gear that can stand up to the elements. With an exclusive line of performance gear dresses, it's time to rethink what it means to "rock the boat."
Apparel like the Agne Performance Dress pairs moisture-wicking technology with a bit of stretch to ensure optimal relaxation, wherever you are. Looking for something even more durable? Southern Tide's Robyn Performance Dress is UPF 50+ with a similar stretch design to the Agne model, plus, utilizes a nylon fabric blend. We recommend the nautical navy pattern, available for both of these fabulous dresses.
Explore Performance Gear Legwear
If you're less likely to spend time in the water, but still relax aboard a cruise, Southern Tide has you covered! Introducing the Channel Marker 7 Inch Short, a comfortable fit for coastal living. The complete ensemble comes in earthy tones of tsunami gray, true navy, and sandstone khaki, able to be paired with just about any T-shirt or polo. Named for their 7-inch seam, each pair of shorts features slanted hand pockets, contrast button stitching and a set-on waistband. A machine washable and 98% cotton build gives each Channel Marker 7 Inch Short the longevity for all of your luxury boating excursions.
Ladies will enjoy the lengthier Alessia Performance Capri Leggings with their striped accents and dark color. The tactel material is perfect for enjoying full range of motion, wherever you might be. Much like other Southern Tide performance gear products, these leggings boast moisture-wicking properties for added water resistance. Individuals may also enjoy the reflective skipjack heat seal centered on the back waistband.
Performance Gear Tops, Tanks and T's
When it comes to tops, Southern Tide has too many to count, but plenty to purchase. The Coastal Outfitters' inventory just wouldn't be the same without its mainstay of nautical shirts and performance gear jackets. Browse our shelves for your next piece and set sail with one of the best brands in the business.
The tried and true T-shirt is present across multiple companies, enterprises and retailers. With their Original Skipjack Short Sleeve T-Shirt, Southern Tide takes the standard model and keeps it comfortable. From the yacht blue to offshore green, there are myriad colors fit for a true maritime lover. Each T-shirt is adorned with Southern Tide's "Skipjack" fish logo, ready to be a catch of the day for the next Florida enjoyer. 
Coastal Outfitters also carries a selection of long-sleeve T-shirts for greater sun protection aboard an oceangoing vessel. Try the Off-Road Sunset design. Sporting a 60% cotton with 50% polyester blend, this shirt has printed graphics and a standard stretch to maintain fashion and function. For chillier evenings, you may want to upgrade your top with performance gear attire that can battle a breeze. Consider donning Southern Tides' Ranya Performance Quarter Zip jacket and take advantage of its stretch cuffs with thumb loops for your hands. Its quick-dry fabric makes the occasional splash from the sea a non-issue, protecting your skin from collar to waist.
Performance Gear: Huk Edition
Our store abounds in Huk apparel, a tried-and-true performance gear brand ready to tackle any outdoor excursion. From early morning hours to high-noon heat and late night chills, you might just need an outfit tailored to a specific time of day. In each Huk piece, their designers have considered water resistance, sun protection and range of movement, among other important factors. That's why we display such a large selection at our Southwest Florida store in Port Sanibel Marina. Expect only the best from Huk on the shelves at Coastal Outfitters.
Let us point you toward Huk's Waypoint Shorts made out of their "softest and lightest fabric yet." These shorts have their own eco-friendly history, with one third of the build consisting of recycled plastic bottles! The Huk craftsmen have meticulously bonded recycled and original polyester together with cotton and spandex to produce a reliable short made for days on the water. What's more, each pair comes with UPF 50+ sun protection and side and back pockets for carrying all your seafaring essentials.
Now that we've introduced you to the Waypoint, it's time to level up with Huk's Next Level Shorts. If you're looking for quick-drying, stain-resistant, antimicrobial legwear, you've found it. The Next Level Shorts take all these traits and meld them together with an adjustable waistband and a plier/cargo pocket combo. Huk trumpets the high stretch and gusseted crotch as key components providing heightened mobility in the water.
Wear Huk from Temple to Toe
The iconic baseball cap comes in many names and colors. Huk's assortment of trucker hats represents their take on the common design, with that special Huk twist. Each headwear item comes with a moisture-wicking sweatband, providing more than just shade from the sun. At Coastal Outfitters, we're fans of the maritime designs, like Huk's Sailfish Bright Trucker or Redfish Unstructured Hat. Whatever your preference, make Huk trucker hats your next performance gear purchase and protect your head from an overbearing sun.
Most swimmers take to the water barefoot, but there comes a time when water-resistant footwear enters the conversation. Boardwalks, boat decks, less than pristine beaches, adventuring around the water requires a shoe suited for the situation. Slip on Huk's Mahi Lace-Up shoes, courtesy of the built-in heel pull-strap, and start walking with a spring in your step. The best part of these shoes are the drain ports, permitting water a swift exit when you reach dry land. Coupled with the rapid-drying upper mesh, excess moisture is easily diverted.
More of the Best Performance Gear Brands
Looking to diversify the leggings in your wardrobe? If you've already considered what Southern Tide has to offer, cast your net into the Charlie Paige brand for an even greater selection. Traditionally a leading company in high-end women's fashion, many of their athletic leggings can fulfill your trendy and performance gear needs. The Drawstring Waist/Elastic Ankle Jogger design may be recommended for a treadmill exercise, but they'll also support jogging along the beach. Unlike most leggings, this legwear cannot be clingy, maintaining a lightweight, easy slip-on appeal for many body types. The earthy tones are an added plus, able to compete with khaki shorts for that top spot in elite fashion circles.
When the sun shines bright, Costa can't come soon enough! If we asked you what is the most colorful item you can wear, few would mention sunglasses. However, Costa takes this notion and puts it to the test. Their framemakers have outdone themselves, creating a wondrous range of tortoise, blackout and coconut fade colors, to name a few. As for true performance gear, it's the scratch-resistant, polarized and UV protective lenses that make this brand unbeatable in the eyewear market. Without your own pair of Costa sunglasses, Coastal Outfitters will be a sight for sore eyes once you make it to our door. 
Before you go, you might just get hooked on any of Hook & Tackle's wide-brimmed straw hats. Sure, you could purchase one of their baseball caps, but sometimes, a guy needs 360 degree sun protection. With the adjustable chin strap, you'll be less likely to lose treasured merchandise during blustery days, plus, keep comfortable with a secure fit. Hook & Tackle has spared no expense, adding an AEGIS® odor-resistant stretch fit headband to each hat, so you can look presentable with no impact from any personal stench. Whether it's sun or rain looking to challenge your Florida fun, get a Hook & Tackle straw hat and put your worries to rest. 
Visit Coastal Outfitters
We'd love to hear from you! Coastal Outfitters has a luxury boutique in Southwest Florida stocked with the leading high-end apparel brands. Shop for your favorite items at Port Sanibel Marina.   
Be sure to share your best finds with us on Facebook, Twitter or Instagram. Also follow our social media accounts to see the latest in performance gear and other Coastal Outfitters products.