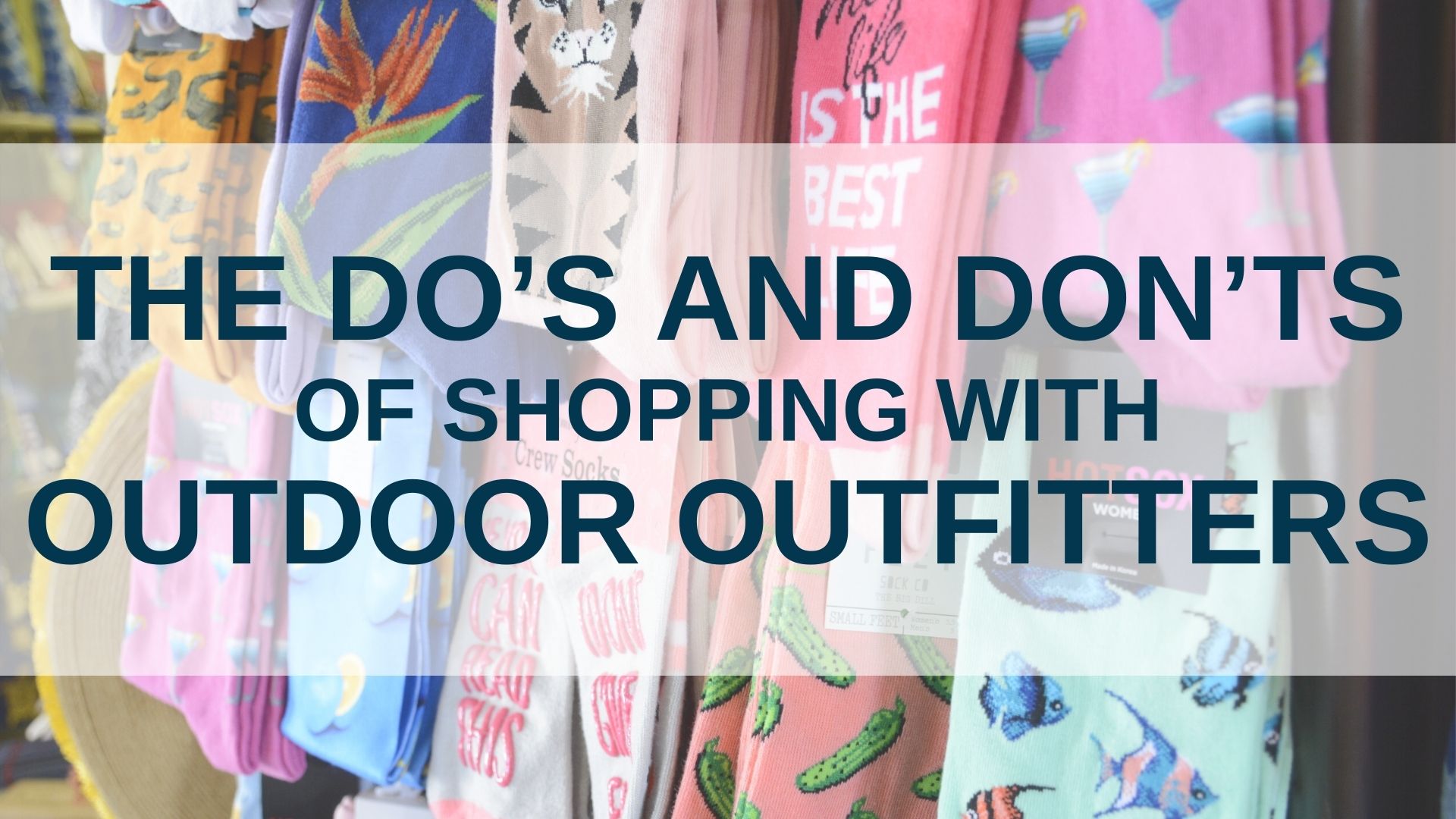 October 30, 2020
Finding your favorite outdoor outfitters can be exciting and lead to several satisfying purchases. Sometimes, it's worth giving that 'mom and pop' boutique a chance, taking an opportunity to find new, favorite apparel or luxury items. At Coastal Outfitters, we believe in providing a variety of brands, accessories and activities for you to discover in our Fort Myers location.
In this post, we've curated some of the best designer picks to look for the next time you visit an outdoor outfitters shop. Our store is a prime example of what outdoor outfitters do right, and we're eager to share the story behind our success.    
Look for High-End Apparel Brands 
Products speak to the store! The best outdoor outfitters offer a carefully curated selection of apparel for every occasion. Educate yourself on which items are high quality and what meets your needs for fashion and function. Coastal Outfitters features such premium merchandise and we highly recommend each of the commodities we sell in store. Beware of bargain brands and knock-off materials, chances are, if you don't recognize the name or can't find associated information online, the product won't meet your expectations.
Ladies and guys can find a trusted apparel brand with Honolulu, Hawaii-based company, Tori Richard. Their dresses, tops, polos and pants are all made from their Pacific island paradise and are well at home in our Florida stores. Enjoy stately cotton lawn, jacquard and spandex jersey fabrics or consider purchasing cloth with an embroidered design. Don your Tori Richard apparel to let the public know you're ready to make a statement and look good doing it. We agree with them when they say "Resort is a State of Mind®."    
Find out more about Robert Graham's sense of style in our blog exploring Active Wear for a Fun-Filled Day in Southwest Florida. This brand can't be beat and boasts some of the most popular menswear among outdoor outfitters. Undoubtedly, you'll be wearing these shirts and sportcoats inside as well, where others can admire the design of these 21st century classics. Everything about Robert Graham embodies luxury, from the muted Rhett Sweater to the sophisticated Metropolitan long-sleeve. After enough purchases, you may have enough swag to join their esteemed Collector's Club.
Don't Forget About Performance Wear!
True outdoor outfitters don't exclude performance wear from their stock. Having functional threads is just as important as fashionable wear and they're certain words and phrases that just might tip you off to their presence. Items that are waterproof, quick-drying and/or offer breathability are often associated with performance wear. Also keep an eye out for words like camouflage, anti-microbial, synthetic and adjustable as prime outdoor wear indicators.
We're a proud supplier of the many performance wear brands including Huk and Hook & Tackle. Boardshorts, jackets, rashguards and boat shoes represent much of the merchandise occupying both Coastal Outfitters boutiques. Even traditionally fashion-oriented brands like Robert Graham and Tommy Bahama have designed performance wear for the discriminating customer. When out shopping with your outdoor outfitter of choice, take a gander at their brands and see if they can match what we're offering in-store.       
Ultimately, do your research and don't settle for substandard products. We have nothing but praise for our in-store brands and you should feel the same way about your purchases. Tommy Bahama, Huk, Charlie Paige, Kooringal, Hook & Tackle…there is a wide assortment of apparel available for a diverse appeal. Why not find them all at Coastal Outfitters?
Great Outdoor Outfitters Offer More Than Apparel
It's you're shopping for quality apparel, then you may also want some equally fabulous items and accessories. Outdoor outfitters may carry top-name clothing brands but their other products are also worth perusing. Find a store that offers products for everyday excursions and complements your sense of fashion. Moreover,  we're proud to help you achieve such goals at Coastal Outfitters.
Yeti Products
It's important to stay hydrated in sunny Florida, luckily, Yeti drinkware and coolers can help you escape the heat and keep cool in the humidity. For individual beverages, take a sip out of any of our Yeti Rambler® tumblers, each with its own metallic color. Longer trips may warrant an easy to carry cooler complete with a water/leak proof zipper and ColdCell™ insulation. Furthermore, we also sell individual Yeti caps and lids so you can mix-and-match your beverage canisters.
Spartina Bags
If you've purchased a Yeti tumbler or two, your favorite drink can go everywhere you can. But what about everything else? Spartina bags make for the perfect traveling companion. Like Tori Richard, the company known as Spartina 449 has a coastal origin on the South Carolina island of Daufuskie. The authentic linen and leatherwork combined with eco-friendly, water-based inks make their handbags an industry icon. Outdoor outfitters stocking Spartina branded bags are certainly worthy of your patronage.
Tommy Bahama Products
Brand loyalists can appreciate retailers stocking not only apparel but accessories in the same line. For example, Coastal Outfitters prides itself in the various offerings from island lifestyle brand Tommy Bahama, another esteemed apparel company. In addition to apparel, we have a selection of men's and women's fragrances and towels. Overall, we're more than just a snapshot of a brand, we wholly embrace Tommy Bahama products. Consider buying from businesses with a similar attitude and a plethora of offerings.
Outdoor Outfitters in the Community
Outdoor outfitters with active ties to the local community can provide some of the best shopping experiences. Fashion shows, holiday sales, festival engagement and a strong social media presence are just some of the many indicators a retailer appreciates your business. Coastal Outfitters has gone in on its share of the fun, often coordinating efforts with Port Sanibel Marina or Promenade-wide events at Bonita Bay. Whether you're a local or visiting for a while, we encourage anyone in the community to drop by during both seasonal events and standard shopping days. 
Outdoor outfitters with a revolving inventory and staff happy to assist will eagerly promote themselves on social media and our store is no exception. Engage with Coastal Outfitters through our thriving Facebook, Twitter and Instagram pages where customers and patrons alike can view community events, new blog posts, and most important, a rundown of some of our products featured in-store. Outdoor outfitters without a strong social media presence may be unable to boast of any new developments at their store and have become stagnant. 
Likewise, don't forget about store-specific websites! Professional, established boutiques are more likely to feature equally functional websites, much like our own. As a result, if you can't find any semblance of what you're looking for on a store's website, their selection may be outdated or incomplete.    
Presentation is Everything
Shopping is more than searching for products and it can also be a fun experience. Drop by Coastal Outfitters and expect to be mesmerized by our massive fashion and performance wear collection. Outdoor outfitters maintaining neat clothing displays and clean aisles lead to a fresh, upbeat atmosphere all customers will love. Find stores with appropriately high standards and you'll rarely be disappointed.
Another aspect to look for is friendly and engaging service. You can call  239.433.0099 to reach our store in Fort Myers. Our sales staff pride themselves on knowing the latest trends and popular brands on the market. After all, we want to help you look your best and feel great through the entire transaction. Once you're done shopping with us, we want you to feel cool, calm and classy in that new trendy outfit.  
Like anywhere in the world, Florida is prone to its fair share of changing weather patterns and surprising temperature swings. To accommodate these oddities, Coastal Outfitters stocks seasonally appropriate merchandise alongside year-round commodities. If you're not finding choice picks in your first foray through our shelves, keep coming back! Quality outdoor outfitters are routinely rotating stores with new products and are often dependent on the time of year. This widespread practice is motivation to drop in every other month and find a new favorite outfit or two. 
Visit Coastal Outfitters
We'd love to hear from you! Coastal Outfitters has a luxury boutique in Southwest Florida stocked with the leading high-end apparel brands. Shop for your favorite items at Port Sanibel Marina.   
Be sure to share your best finds with us on Facebook, Twitter or Instagram. Also follow our social media accounts to engage with one of Florida's premier outdoor outfitters.