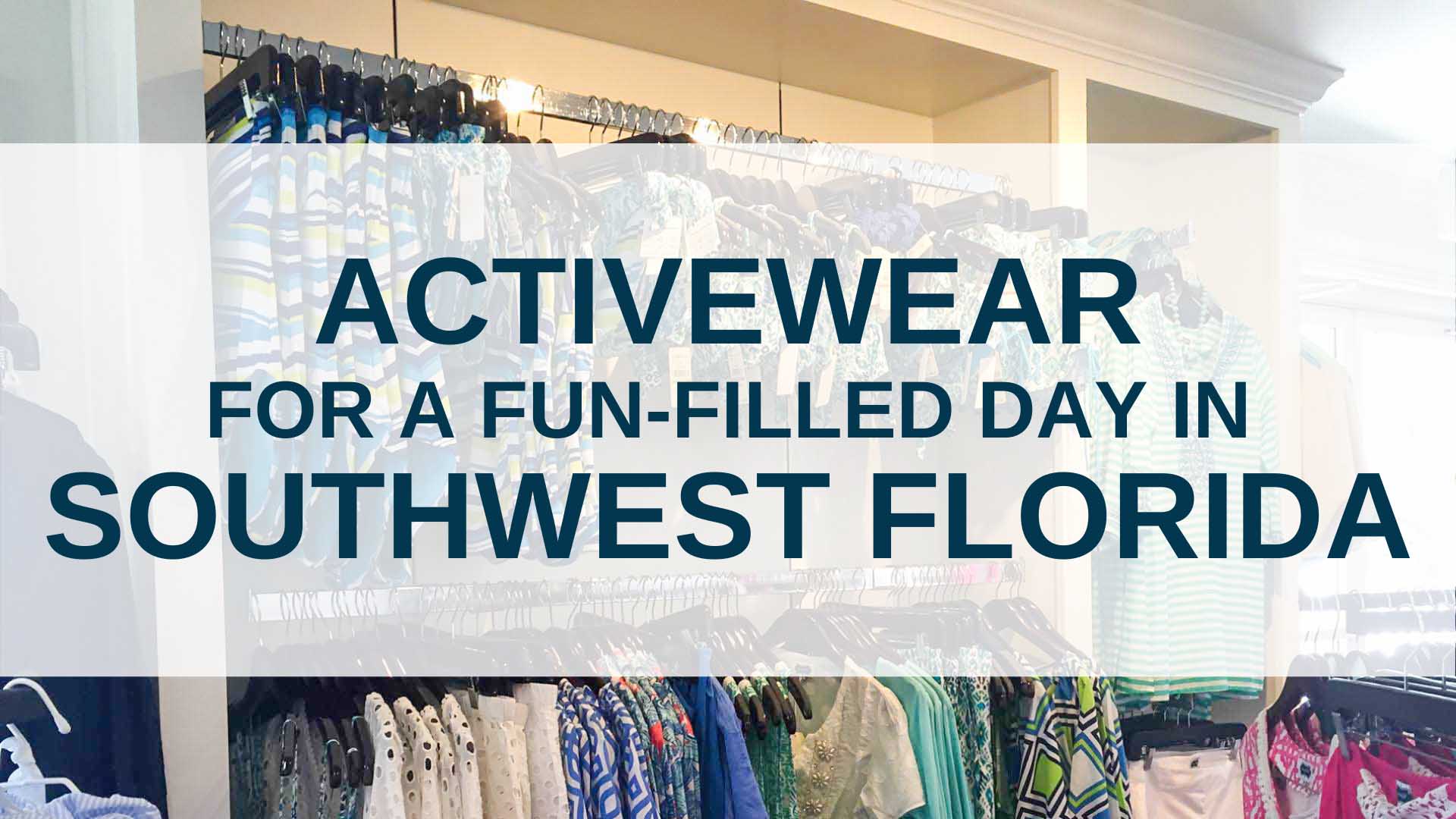 April 29, 2020
Boating, hiking, volleyball on the beach — whatever the activity, your body will appreciate high-quality active wear. Coastal Outfitters' merchandise has bursts of color and weather-resistant material to meet the needs of each tasteful customer. After all, why not look great while having fun?
Active Wear to Start Your Day
Wake up each morning in new active wear, ready to conquer the day's adventures. Coastal Outfitters has the perfect mix of performance and stylish clothing so you can mix-and-match apparel — wherever fun takes you. Everyone deserves the chance to look nice in their leisure, take the opportunity to browse our active wear and make fellow travelers and locals envious.   
Breathe Easy with These Active Wear Brands
Stay relaxed in short-sleeve polos and collared shirts from the Tori Richard menswear line. Look fabulous in the floral Aloha Toile polo from Florida to Hawaii. For a darker shade, try the appropriately named In the Shade shirt and keep cool with its jacquard knit fabric. Palm leaves and flowers make it tropical delight, all accented on a striking navy blue. The Passport performance polo makes for a great solid color option, should you be looking for a muted palette with moisture dispersing properties.
Lose the collar with Robert Graham's V-necks to let yourself breathe easy on those humid days. The Rhodes comes in gray camouflage so you can hide from discomfort and remain fashionably visible. Swap for a lighter yellow to rival the sun with the men's Traveler V-neck, a solid shirt with a single color. For a more customizable V-neck, we also recommend the Greco knit t-shirt with its pull on closure. This short-sleeve is easier to adjust, its "V" shape closing slightly after it's first put on. Sold in cobalt or white, the Greco is adaptable to activities in the bar and on the beach.      
Don't Forget about Board Shorts! 
What's the best about board shorts? Few garments look as refined in the water as they do on land. Many brands feature their own take on this essential Florida apparel and Coastal Outfitters has the products stocked to the max. Try on the Huk Subphantis or Freeman board short to satisfy any excursion in your active lifestyle. Sun protection, stain release and anti-microbial fabric make these shorts great for biking, swimming, hiking or just plain hanging out with friends.        
For the ultimate pick in active wear, Hook & Tackle's Hi-Tide Hybrid short is the go-to for all your needs in and out of the water. Two front and two back pockets can hold your essentials and its "4-Way Stretch" maximizes maneuverability. With its belt loops along the waist, this apparel is a true hybrid, easy to slip-on for some boatside action or dining upscale at the marina. According to Hook & Tackle, the Hi-Tide Hybrid short is great for "enjoying your active water lifestyle and make for awesome shorts for travel."    
Ladies Active Wear is More Than Fair 
Tori Richard has come through for the ladies too! The brand's assorted tops are easy to accessorize with their generous necklines permitting jewelry galore, more on that later. To start, a girl can get behind any of the off-the-shoulder apparel, like the vibrant Keely Top. Keep your full range of motion by relaxing in an outdoor beach chair and let the sun rays tickle your skin.
Add a splash of color to your wardrobe with some of the patterned Bali tops. These are a touch more elegant than the guy's V-necks and will look dazzling with a complimentary necklace or pendant. Also try the Pima Knits Ashley top to rock a solid color with the same open neckline. Casual and super-chic, the V neckline is a trend that's never left us and will keep you feeling comfy around the resort.
For every eclectic top, there's an equally exceptional pair of shorts. Stick with the Tori Richards brand and express yourself with their denim twill line, such as the Sandi or the lengthier Cindy short. Both are molded for added stretch to accommodate a gal on the move. Tommy Bahama's selection of nylon swimwear also lets ladies get in on the fun. Hop out of the water and you'll be ready to visit those local Florida eateries.         
Ready for some yoga on the beach? Look no further than Charlie Paige for leggings to meet all your fitness needs. What's more, they are outfitted for the stylish siren in you, such as the Lace Capri leggings with their patterned detailing on the pant cuffs. With a flexible nylon blend, there's no doubt you'll be wearing them for leisure and to the ultimate work-out routine.           
Evening Active Wear for the Finish
Sometimes, you just want to break out the long-sleeves and flowing dresses to impress your social circle. Even Southwest Florida gets cold from time to time and we're here to help you enjoy relaxing, whatever the weather. Active wear at Coastal Outfitters comes in bright colors, riveting patterns and neutral hues so you can mix-and-match for the occasion. We've got the brands to make you distinct during a night of dancing and fun.
Timeless Details from Robert Graham
What's the most notable feature of any Robert Graham shirt? Is it the exquisite textures? Premium fabric? How about the contrasting cuffs? We can't answer that for you, but drop by Coastal Outfitters and you can decide for yourself. An evening of fine dining is a chance to wear the pinnacle in fashion and you can start your search in our luxury boutique. 
Once you've fitted into a Robert Graham long-sleeve, try reversing the cuffs to reveal a visually stimulating new pattern. The Peppard button-up is an excellent example. Its dark-red body becomes even more outstanding when you see the swirled blue rivets mixing with red on the reversed cuffs. Even the shirt names are grandiose like the apparel itself: Samurai Spirit, Breaking Lands, Fruit Cocktail and Memento Graphic are all part of the long-sleeve collection.  
After purchasing 100 shirts as part of the Collector's Club, Robert Graham honors its patrons by naming a custom shirt after the individual. Here, an article covers how Darren Harding received his own shirt "the Harding," made in his name. Stop into Coastal Outfitters to browse our selection of Robert Graham attire and be part of a burgeoning legacy.
Stay on brand with Robert Graham's assortment of designer jeans and pants to pair with your long-sleeve shirts. Pants like the Maven Woven come in both light and dark hues, namely an offwhite and navy blue, respectively. It's only natural to wear these with their like-colored shirts to unveil the ultimate Robert Graham combination. As for functionality, the brand's choices offer the standard side and back pockets to hold wallets, phones and car keys.
Tommy Bahama and Tori Richard Team Up
Two brands at Coastal Outfitters are sure to rock the active wear world. Tunics, swim dresses, cover-ups and pants are all available courtesy of Tommy Bahama and Tori Richard to make your night one to remember.
Tunics make for great standalone apparel but go great over swimsuits too! After your evening swim, Tommy Bahama has a fantastic Linen Jersey open front tunic to keep you looking cute out of the water. Their Salvation Sea lace-up is a step above, bombastic red, white and blue on black with a lace-up neckline. Not to be outdone, Tori Richard makes a V-neck style Tickled Mallory tunic to swathe yourself with an ethereal feather pattern, white plumes on black polyester.
If the Tickled Mallory is your true calling, then you'll love to combine it with the equally fabulous Tori Richard Ginger Jean line. Who wouldn't wear the Sneaky Tiki to help accentuate their figure? The Ginger Jean pants also come in Birds In Paradise and the muted Denim Twill varieties for all optimal choices.     
Tommy Bahama has the cover-ups to slip on the starboard side during your evening cruise in the ocean. Many of these feature convertible long sleeves with shirttail hem lines such as the Sail Forth Boyfriend Shirt cover-up. If you're looking for something longer, say, a swim dress, Tommy Bahama comes through again. These luscious pastels are woven with Italian microfiber for all-day comfort. They even provide UV protection with a UPF 50 rating, helping you beat the sun when it's a scorcher outside.     
Make Memories with Accessories 
Coastal Outfitters wouldn't be a luxury boutique without the bling to make your outfits pop! Try on a pair of Costa sunglasses, fully functionable and absolutely fashionable. We recommend all-purpose essentials for you to bring along during a day in the sun and surf. Don't risk forgetting what you need, read below to see how to finish your fashion and gather gear for any future trip! 
Jewelry From Artisans Around the Globe
Jewelry makes any sophisticated girl swoon and you'll be no exception after viewing our worldly repertoire, all here in Southwest Florida. Deck out your wrists with Les Georgettes bracelets, designed by the craftsmen in Paris, France. Adorn your arm with any variety of bangles in gold, rose gold, silver or ruthenium finish to accent that day's look. 
We're not done with Europe yet — move on down to Greece, home of the handmade Eleni Design jewelry by Eleni Pantagis. Her Athens workshop is responsible for the sparkling silver necklaces and earrings found at Coastal Outfitters, some with a hint of gold as well. Take advantage of the V-neck Tori Richard apparel to adorn yourself with one of these argentine beauties.
We've saved The Honest Bead for last, and for good reason, this brand has a story to tell. No two necklaces or earrings are the same and are made from repurposed fabric by women artisans in India. According to the brand itself, this fair wage jewelry "holds a promise of a better life, dignified job and a greater sense of good in the world." The colorful designs are standout among jewelers, perfect for pastel, floral and sorbet dresses, plus more! 
Shades for Sunny Days
It's inevitable you'll be faced with the sun's glare driving, sailing and especially flying in Southwest Florida. Coastal Outfitters has put its faith in the Costa line of sunglasses with its myriad designs and lens colors to complement your active wear. Our in-store racks are filled with these stylish shades: if you're not looking for fashion, definitely check out a pair for optimal eye health.
Most of these sunglasses feature a multitude of different frame and lens colors. With so many choices, it's easy to customize to your heart's content. The Piper comes in frames of shiny gold, satin rose gold and velvet silver, to name a few. That doesn't even touch on the far greater amount of lens hues to choose from. Blue mirror and green mirror are simple, straightforward beauties but don't discount the copper or gray colors for some earthy tones. Regardless, we highly recommend Costa sunglasses for their 100% UV blockage and 100% polarization to eliminate reflective glare.
Be Safe with Extra Sun Protection 
Coastal Outfitters is dedicated to making your next Florida trip memorable. If you have the right active wear apparel and accessories, you're nearly set, but may be lacking the essentials. Tucked away in various corners are the items to aid in your destination vacation.   
There's a reason Florida is known as the Sunshine state. With plenty of sun, sometimes, shades simply aren't enough. We have several branded umbrellas to shelter yourself in the heat. The coast is also frequently battered by heavy rain showers, why not be ready when it pours? Between the day's sun and watery deluge, you could be fortunate enough to see a rainbow arcing skyward. Enjoy the sight from under the comfort of an umbrella. 
Still, an umbrella isn't always the answer, so that's why Coastal Outfitters has reliable sunscreen brands in stock. Many are waterproof for the avid swimmer in you while others are SPF 70 for anyone trekking out far across open terrain. Play it safe by checking out our bug spray selection as well. With No-See-Um natural insect repellent, it's unlikely mosquitoes, flies and gnats will join you on your hike.   
Contact Coastal Outfitters
We'd love to hear from you! Coastal Outfitters has a luxury boutique in Southwest Florida stocked with the leading high-end apparel brands. Shop for your favorite items at Port Sanibel Marina.   
Be sure to share your best finds with us on Facebook, Twitter or Instagram. Follow our social media accounts to see the latest in active wear and other Coastal Outfitters products.