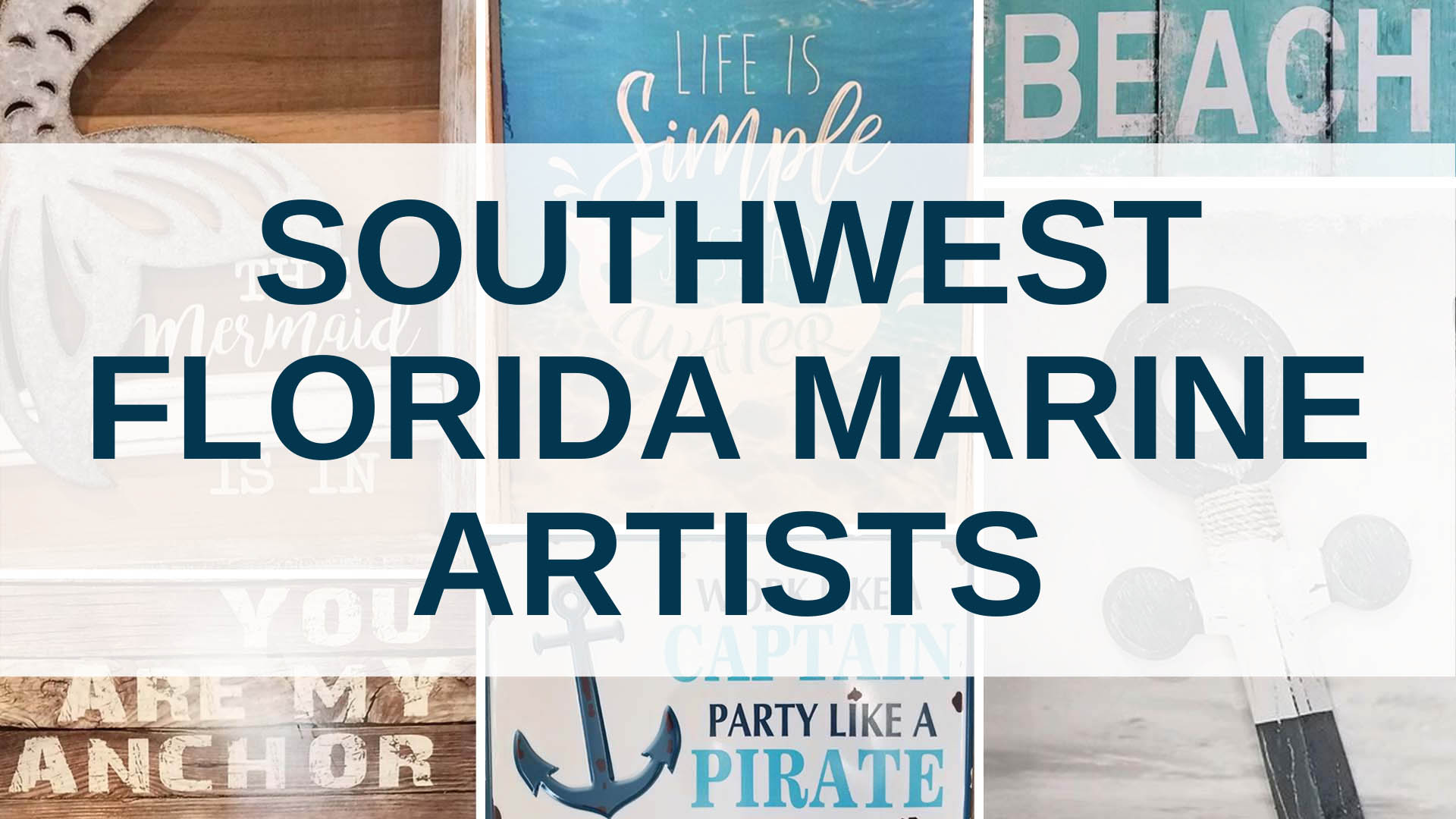 April 14, 2020
Florida's breathtaking landscape and impressive nautical scenery have inspired generations of marine artists. A well-thought-out piece can convey the same beauty and emotion as told in a thousand-word storybook. Coastal Outfitters aims to make such paintings and illustrations available to you in tandem with our selection of luxury and performance wear.
Below, we've profiled three notable marine artists with work displayed in our stores. Each has a different story riddled with the answers behind their art and the interests that led them to the success they know today. Visit Coastal Outfitters to marvel at the numerous canvases, fine-art prints, chart art and wooden signs that bear the signature touch of these Florida professionals.
A Storied Origin for Marine Artist Steve Whitlock
Fine marine artist and illustrator Steve Whitlock has a storied background in Florida that is captured in his art today. Life's taken him through many of the state's notable cities, from his birth in Tampa, to growing up in Naples and studying in Sarasota. He also has fond memories from his youth, fishing along the Tamiami Trail around Miami with his father.
"I was raised in the Everglades, and spent all my free time on the water or in the woods," he said, "My family owned the headwaters of Turner River, north of U.S. Route 41. I was also a Captain in the 1980's, fishing inshore and offshore from Naples to Everglades City."
Between fishing on his own and manning ships as a Captain, Steve became well-immersed in the nautical scene. It wasn't until his mid-30s that he started his pursuit of art after a fall on a work site left him unable to continue in the construction industry. During his recuperation, Steve received an acceptance letter on his application to the Ringling College of Art and Design and knew he found his true calling.
Steve would go on to receive his BFA degree in illustration from Ringling and after years growing up in south Florida, he had a familiar subject to start the foundation for his art.
"Painting fish on the navigational charts made perfect sense. Matching the species to the chart — and chart to the market … made good business sense."
As he rose in prominence, so did Steve's knowledge of public demand.
"Popularity of a piece depends on where I'm showing it. You have to match the hatch. The Southwest Coast of Florida is all about Snook, Tarpon, Redfish and Sea Trout. For the East Coast and the Keys, it's Mahi, Sailfish, Wahoo and Marlin … Redfish are popular all over the Gulf Coast. Species like Snook are only popular below the Tampa to Cape Canaveral areas. No two art shows have the same set up of artwork."
Thanks to social media, customers have shared photos showcasing his work in homes and offices. For Steve, seeing his canvases and navigational charts on display is a testament to the timelessness of his illustrations.
"It's very rewarding to please folks so much, knowing the art will be here long after I'm not," he said, "My wife, Lynn, and I are the company and we do it all."
Work from Marine Artists at Coastal Outfitters: Steve Whitlock
Coastal Outfitters carries Whitlock's "Florida Flag Inshore Fish" chart art depicting a sea trout, tarpon, snook and redfish emblazoned over the flag of Florida. For more chart art, check out his "Southwest Grand Slam" for a more focused showcase of southwest Florida. His tarpon pieces are equally amazing, look for "Silver Kings Tarpon" or the "Tarpon – Pencil Art" in store as well. Browse our Marine Art and Jewelry to explore more of Steve Whitlock's marine artist designs.
Carol McArdle in the Eye of the Outdoors
"Nature has always been something that nurtures my soul and, in my opinion, nothing supersedes her beauty, endless diversity and capacity to take my breath away."
Such words perfectly describe the work of landscape and wildlife artist, Carol McArdle. She describes this natural beauty as the inspiration behind her paintings, a way to feature the best of Florida's unique geography.
McArdle herself has visited many of these locations, her well-traveled past making for a reservoir of inspiration from which she fashions her art.
"As much as possible, I seek out natural areas that remain as they have been for thousands of years, undisturbed by people … I'm grateful for the wonderful ecosystems in State and National Parks and other preserved areas of nature."
Every piece McArdle creates is a well-thought-out endeavor, enveloping lengthy research. In her visits to nature preservations, she takes hundreds of photographs of her most poignant sights. She'll often load her photography into Adobe Photoshop in order to "chop, paste, crop, distort and change colors and values." Occasionally, she'll even paint small pieces at the site of her visit.
"I paint on stretched canvas mostly in oil paints but sometimes acrylic. I love painting large pieces, probably because of the years I painted commissioned murals for people's homes. The final pieces have eye-pleasing compositions, mostly saturated tropical colors and my paintings portray Florida's beauty as I see and experience it."
As an artist's perspective evolves, their work frequently follows suit. McArdle is no exception, her interest expanding into further subjects to capture on canvas.
"When I first began this natural Florida series, I was all about the landscapes, but as time went on, the unique bird population came into focus. They had a beauty of their own that refused to be ignored and they reflect the local light and subtropical colors in a unique way. I have also been captivated by the water turtles and how they create fascinating patterns in the water."
For anyone looking for custom work, she also offers commissions to cater to a customer's specific vision. Regarding her overall work, McArdle says it best:
"I have found anyone who is fond of Florida scenery and nature will find something that connects them with my paintings."
Work from Marine Artists at Coastal Outfitters: Carol McArdle
Drop in to Coastal Outfitters and walk away with your own giclee print made by McArdle herself. "Three Early Fisherman," "Sea Grape Heart," and "The Beautiful Stalker" comprise our selection, each capturing a riveting scene from natural Florida. The former is a giclee print on canvas and paper while the latter two are giclee on watercolor paper. Perhaps the hallmark of McArdle's art instore is "Beach Party" featuring a lively pelican among other coastal birds. Purchase this 21-by-28-inch canvas to own the pinnacle in avian art. Interested in finding more? Browse our Marine Art and Jewelry page to learn more about Carol McArdle's art.
Brendan Coudal and Ballyhoo Designs
Few can claim the title "Creative Guy in Charge," but Brendan Coudal is well-deserving of his epithet. As the founder of Ballyhoo Designs LLC, Coudal's art dives into marine life and much, much more.
"I started out painting saltwater game fish, and there are so many talented fish painters these days, I guess I wanted to do something to separate myself from the others. I've always been a huge fan of mid-century style illustration, especially that done by painters. It's pretty much a lost art and I'm glad I started this style in my own studio in 2007."
Coudal's interests have become a thriving market and he's catered to many customers looking to purchase his illustrations. His resume includes partnerships with private businesses, chambers of commerce, fishing tournaments, special historic events and a multitude of other parties who've requested his art.
"Everyone seems to love mermaids, and tarpon are popular anywhere in southwest Florida, so those images tend to be very well-received," Coudal explained, "One of my most popular pieces and, actually, one of the first paintings I created in my retro-gal series is called 'Boca Belle,' which depicts a beautiful blond angler with a jumping Tarpon at the boat and cute little dog cheering her on."
But how does one go from inspiration to finished product? Coudal's process is thorough, but leaves room for wild creativity, often ending with astonishing results.
"I come up with a concept for a painting, make some loose sketches, photograph a model, convert that photo to black and white, tape the photo next to my easel … and start painting! I cross my fingers, make a wish and hope it all comes out as I envisioned it! Sometimes they surprise me and sometimes the finished piece changes and looks far different than my original reference and/or sketch."
As for Coudal, his success is a product of a life well-immersed in the Florida nautical scene. His art has been well-received in the public eye, bolstering further creative endeavors, such as his soon-to-be private label T-shirt brand. Ultimately, he's been glad to see the raw emotion many clients express after seeing a piece, noting how it brings him happiness in return.
"Over the years, the most common response I get from customers is that my art makes them smile and the fact that my art speaks to them in that way makes me very happy. I'm lucky to be able to make a living doing what I love to do, creating images that evoke joy, brightness and beauty."
Work from Marine Artists at Coastal Outfitters: Brendan Coudal
Pieces on display at Coastal Outfitters include "Tarpon Mermaid" and "Uncork Some Fun In the Sun," both retro gal canvas prints. We also carry wooden signs courtesy of Ballyhoo Designs LLC that are "great indoors or out, their character only enhanced by weathering." Consider stopping by and purchasing work from local oil painter and "Creative Guy in Charge," Brendan Coudal and learn more at our Marine Art and Jewelry page.
Where to Purchase Creations from Marine Artists
Coastal Outfitters has a luxury boutique in Southwest Florida stocked with these works from fine marine artists, and leading high-end apparel brands. Shop for your favorite items at Port Sanibel Marina.   
Be sure to share your best finds with us on Facebook, Twitter or Instagram. Follow our social media accounts to see the latest pieces from local marine artists and other Coastal Outfitters products.