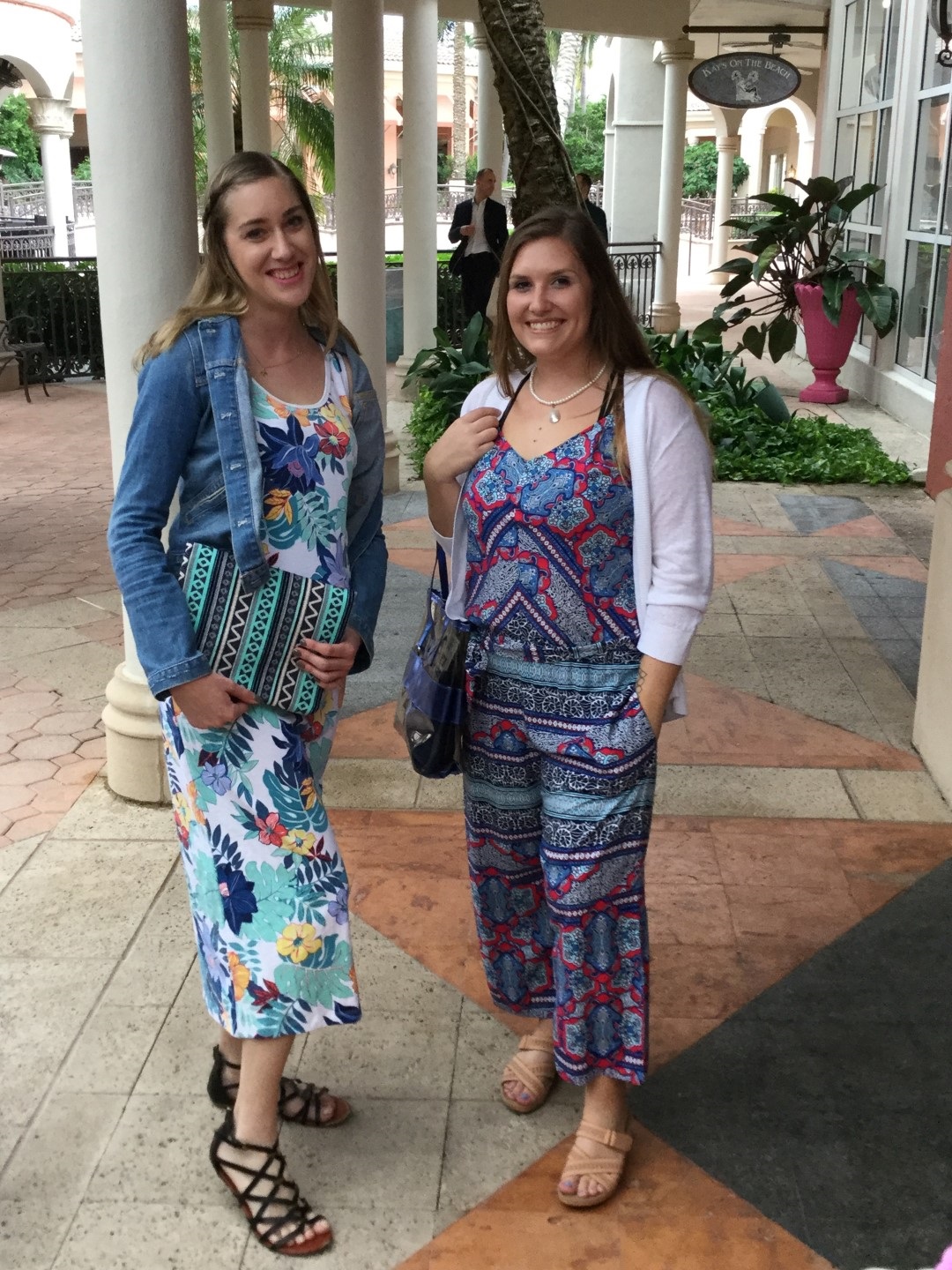 December 20, 2018
Last Thursday I was asked to walk in a fashion show for the very first time.
I had no idea what to expect. I just knew a coworker needed help at the last minute and I would be modeling clothes for Coastal Outfitters, a sophisticated, yet casual boutique that sells performance outdoor gear including performance wear and resort wear for men and women, and fishing tackle and gear.
Around 10 a.m., I drove to the Promenade at Bonita Bay, found the Royal Shell office and met up with my coworkers. This visit marked my second visit to the shopping and dining center, a Bonita Springs staple along U.S. 41, whose multicolored buildings always stood out to me and instantly transported me to Italy.  
The Promenade at Bonita Bay is a place locals love to call home and a destination that tourists want to keep coming back to every year. The lush landscaping weaves in and out of the open-air shopping center, which is a complement to Southwest Florida's gorgeous year-round weather. When you're surrounded by sunshine, palm trees and water, it's hard not to feel content. Especially when you're surrounded by some of the finest retail stores and the best Italian cooking in the area. DeRomo's Gourmet Market & Restaurant is perfect because you can sit down and enjoy a sophisticated meal or you can visit the market and grab something quick to go.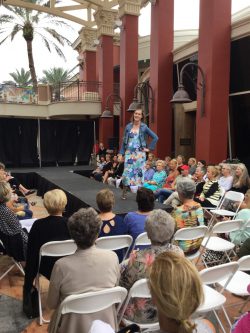 Since I work for Royal Shell, whose parent company owns Coastal Outfitters, I already knew the brand pretty well; but, I hadn't yet had the opportunity to try on their clothes. Brands they carry include Tommy Bahama, Pelagic and Robert Graham. I tried on a midi dress from Magnolia Grove, a maxi dress from Tommy Bahama and an outfit with pieces from Tommy Bahama and Mudpie.
All proceeds from the fashion show benefitted New Horizons of Southwest Florida, a group dedicated to helping at-risk youth complete high school. Their goal is to also empower them to reach their full potential, whether it's through mentoring, tutoring or building faith.
Fashion show attendees had the opportunity to purchase $50 raffle tickets with a chance to win a full day boat rental or a four-day, three-night stay at either The Park on Main in Highlands, North Carolina; Sundial Beach Resort & Spa on Sanibel Island, or South Seas Island Resort on Captiva Island.
The first 50 attendees got to walk away with swag bags; the Enchanted Ballroom of Bonita Springs performed a short dance number and hair and makeup for the models was provided by Robert of Philadelphia Salons.
Over 100 people came out to preview the latest trends in apparel, shoes, accessories, home décor and more. For visitors who haven't yet had a chance to visit the Promenade, the show was a chance for them to see what some of Bonita Springs' most unique boutiques have to offer.
Most of the models were hired for the show and they gave advice on how to walk, when to smile, when to pause, when to turn, and how to turn. However, the overall message of the day was: "Don't worry. Just have fun!"
Having fun—that's really what the show was all about.
There was another woman walking with me for Coastal Outfitters. Like me, she was in her 20s. Also like me, she had never done this before.
She wore a jumpsuit with pockets, an elastic waistband and adjustable shoulder straps. Both of us agreed that we would wear the blue jumpsuit out on the town. Her second look was a ruffle dress by Tommy Bahama that could be worn on or off the shoulders. It had pockets, too. The last look completed the three outfits with the perfect go-to dress for any occasion accompanied by a fringe cardigan, perfect just in time for fall.
Becky and I practiced our walks in the Royal Shell office's hallway before the show began. As much as we were nervous, we were also very excited and grateful for the chance to walk in a fashion show and try something new.
We both agreed that while Coastal Outfitters typically catered to an older demographic, we would each wear the pieces we modeled to meet friends, run errands, etc.
When I tried on the blue and pastel-colored midi dress, I kept remarking that I wish I could take it home with me. It was bright and tropical, but it wasn't too much. The material was a bit stretchy, so it would look great on anyone. You can dress it up with a jean jacket and jewelry for dinner or wear it while you're running errands.
I thought the white pants from the second ensemble would be too tight, but they were made from a stretchy material and fit perfectly. The blue and white fringe cardigan was bohemian-inspired and I'd wear it with just about anything.
The last dress was also bright and had a Caribbean feel. I love anything with palm trees on it, so I instantly fell in love with this dress. The material was soft and no matter what you did to it, it wouldn't wrinkle. The dress really would look great on anyone!
The show turned out well. Everyone had a great time. It was a fantastic way to give back to the community, raise awareness for a good cause, and showcase all that the Promenade has to offer.
Even though I was nervous, I would do it again. And even though clothes may seem out of reach or made for a different demographic, it doesn't hurt to try them on anyway. You just might find your new favorite outfit!