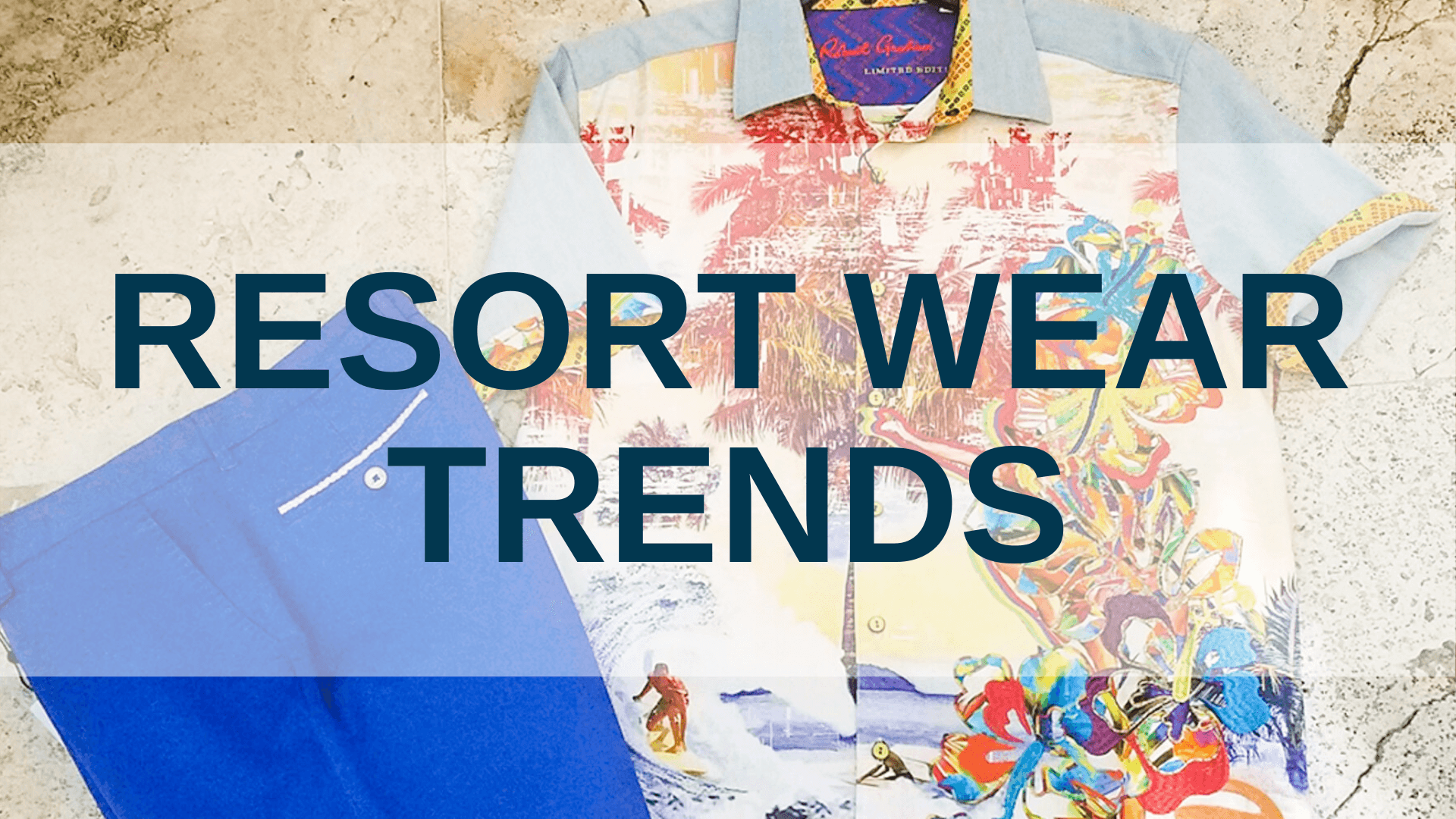 February 27, 2020
If you've booked a Florida cruise or have a date with the beach, treat yourself to the best in resort wear. Everyday attire, swimwear, shoes and accessories are on the market to enhance one's style. Below, we've consolidated the best of our eclectic brands: Robert Graham and Tori Richard, Tommy Bahama and Charlie Paige, to name a few. But with so many choices, don't get overwhelmed. We'll link your unique style to our trendy merchandise.
Coastal Outfitters is your one-stop destination for the latest in resort wear. Visit Port Sanibel Marina and find what speaks to you!  
Let's Kick it off with Casual Resort Wear
Spending time in Southwest Florida gives you the chance to look and feel great on the beach. At Coastal Outfitters, our casual resort wear collection is ever-expanding, full of the latest trends to update your ensemble. Take that first step toward loving the brands meant to put your best foot forward. Whether it's for social gatherings or late-night strolls, we're confident we can help you dress to impress.
Floral is a Lady's Friend, Pastel is Her Familiar
In Nordstrom's Women's Trend Report, the designer illuminates "graphic florals" as a "perennial favorite." It's no surprise these popular florals are back in bloom, and rightfully so, a true Hawaiian lei is a vacation sensation. The report also praises pastel as "timeless yet modern" able to "let your accessories pop on a muted palette." Coastal Outfitters brings both styles to the forefront, lavishing ladies with dresses that vary in length. Island Toppers that flow in the breeze also get in on the fun!
Find three varieties of Distant Haze floral dresses at Coastal Outfitters, one for every occasion. The designers at Tori Richard have outdone themselves with the Clarissa, Marcella and Leonor dresses. The first two are midi and maxi, respectively, and worn over the shoulder while the Distant Haze Leonor Dress is an off-the-shoulder midi. The Early Birds Jaxon Dress can be seen pictured to the left paired with Charlie Paige sandals. All four showcase vibrant dark blues with the occasional hot pink to flatter your silhouette with an evening floral mix. 
For a more subdued pallet, Tommy Bahama's Crinkle Rayon Dress boasts a paradise coral hue that epitomizes pastel. Looking to show some skin? With their equally fabulous Pearl Strapless Twist Front Spa Dress Cover Up, you'll be flirting with the sun, making an entrance in its pure coral color. Keep up with the trending pastels when you throw on one of Tori Richard's Island Toppers, like the Alba Duster or Paula Sweater, great for wearing over dresses. With all these even tones, admirers will notice your matching accessories and sleek form on the beach.       
Sorbet and Tie-Dye Make Men's Resort Wear Casual
Vouge, a lifestyle and fashion magazine, highlights attire sure to dominate the resort wear scene for years to come. In their spring season article, these six biggest trends include sorbet hues and captivating tie-dye patterns. Coastal Outfitters offers an array of stylish shirts and shorts to keep your resort wear fresh and trendy for your next getaway.
Robert Graham's Atlantis Short Sleeve heralds a striking black, yellow and blue tie-dye pattern, its contrasting colors making for standout attire. If you're looking for a long-sleeve, the Mayar mixes reds and blues with a riveting paisley pattern. Robert Graham shirts "tell your story" and their trendy designs are unmistakably memorable, especially using the tie-dye theme. 
If you're wearing a subtle polo, add a pair of Tori Richards men's shorts. Perfect for everyday leisure, both the Weekender and the Navigator shorts are available in a variety of sorbet color schemes. The former comes in a silver blue or shore, a light blue color, while the latter is sold in hibiscus and sky blue, among other hues. Enjoy a beachside stroll through the surf with these sorbet-inspired selections.
Take to the Surf with Trendy Swimwear
Poolside fun and walking in the Florida surf has become synonymous with the Sunshine State. If you've got plans to take to the water, why not look and feel great while you swim? Coastal Outfitters has the premier board shorts and tankinis to keep you and your family having fun under the sun. Don't forget a layer of sunscreen, also available in our stores, to keep your skin safe for those future excursions.  
Casual Brands Come Through for the Guys
Let's take it down to Ft. Lauderdale where the local newspaper, Sun Sentinel, wrote a piece on Men's swimwear fashion trends. Op art and geometric abstract patterns are all the rage, thanks to Tori Richard and Robert Graham, you can get a taste of each. At first glance, the Line Scale swim shorts might appear like unorganized lines, but a closer look reveals the many-striped fish that make this piece a great catch. A black-and-white striped pattern weaves into the marine life's light blues to create an op art meld that is just that — a work of art.
Go all-in on Robert Graham's Pilot Rock New Woven board shorts if you're looking to hang-ten beachside. Its rough-hewn parallel lines embody the geometric abstract trend using contrasting reds, greens, browns and whites to lend itself to rugged surf sport. Both slip pockets and zip pockets make it as functional as it is fashionable. Mix it with Robert Graham's own Atlantis Short Sleeve and you'll look like you belong in the tropics.        
Florals Return to Flaunt your Favorite Colors
Your friends will notice who's trendiest when they see you've coordinated your wardrobe for every occasion. With Tori Richard floral dresses and Tommy Bahama floral tankinis, you're sure to blossom under the Florida Sun. What's more, some of these tankinis are reversible to maximize options for style. We're taking point from W Magazine's article on swim trends to show you just how popular floral's become.
The Tommy Bahama Palm Party Reversible Long Tankini showcases an overlay of palm leaves and cool blue ferns. Wear its other side face-out if you're looking for a simpler pattern, vertical blue and white stripes, will emphasize your figure. Their Oasis Blossoms Underwire Tankini is striking with its red-pink flowers overlayed on a gorgeous dark blue. Be bold on the water with this swimsuit that makes even the ocean jealous.  
W Magazine also stresses the trending "luxe lurex," as the best wear to feature earthy colors with a bit of sparkle. Tommy Bahama's Desert Python Reversible Halter Tankini captures it best with a snake-print inspired pattern. Available in both the blue monday and caffe look, wearing luxe lurex to the resort is entirely too easy. Reverse this tankini if you're going for a more modest, yet still arresting, minimal silhouette look.     
Footwear Fit For the Beach
Barefoot is fun, Tommy Bahama sandals are better! This activewear company means business when they roll out a new line of resort wear and Coastal Outfitters has the best of it. Neiman Marcus Accessories Editor, Maya Sasaki recommends natural textures to fill your resort wear closet, especially when it comes to flats.
According to Sasaki, "Straw & canvas bags are travel-chic paired with flat sandals & espadrilles to complete your getaway look."  
The Yuri Sandal's bronze leather upper couldn't be more natural and trendy. Ladies, you'll be positively swooning when its faceted crystals, mounted on the upper, gleam in the morning sun. A rubber sole makes these flats comfortable, yet solid, and their design is enough to make you not want to take them off.
The gents in the crowd can appreciate the Allegro Flip-Flop with its grey and natural color, a rich mahogany. Like the Yuri, its rubber sole will put any soul at ease, along with a soft synthetic strap lining. Pair with the above Navigator or Weekender shorts to match your even-toned sorbet with some natural-colored footwear.        
Resort Wear Accessories to Match
Rewind to Maya's Picks to see the most captivating resort trends for all your accessories and essentials. Under her recommendation for natural textures, she lists "raffia, crochet, canvas, straw & wicker" as material fulfilling this resort wear trend. Thanks to Kooringal hats, Coastal Outfitters can provide such a selection of earthy shades.   
Try on the Kooringal Black Straw Sun Hat for some definition to make your eyebrows flourish. Matched with solid colors or an animal print, this headwear can be the ideal traveling companion for cruises or a resort. If lighter colors are more your style, the Wide Brim Santa Cruz comes in cream and tan. Flaunting a paper braid wrapped above the brim, your hat will include an accessory of its own.    
Kooringal's Unisex Cypress Safari Hat, in the popular khaki color, is another stately piece rocking natural textures. Guys and gals can appreciate this eco-friendly purchase made from 50% recycled bottles. Wear it on all your boating excursions since this headwear is also waterproof.
Want to mix some floral with your pastel Island Toppers? Tori Richard also makes the Easy Breezy Scarf to spruce yourself up with pops of color, another of Sasaki's highlighted trends. Fanning palm leaves overlap in bright yellow, green and hot pink with the occasional black added for contrast. The brand makes it easy to mix and match and we encourage you to go for it!  
Where to Purchase Resort Wear
We'd love to hear from you! Coastal Outfitters has a luxury boutique in Southwest Florida stocked with the leading high-end apparel brands. Shop for your favorite items at Port Sanibel Marina.
Be sure to share your best finds with us on Facebook, Twitter or Instagram. Also, follow our social media accounts to see the latest in resort wear and other Coastal Outfitters products.